Before moving forward, I need to satisfy the FTC's requirements:
This post and sidebar contain affiliate and advertising links, which means I may receive a small commission if you make a purchase, at no additional cost to you.  If you wish to learn more, you are welcome to read my disclosure page.  Thank you for your support.
 Hi!  Thanks for stopping by.  Looking for Homeschool Information?  This is the place.  Take a moment to subscribe to my blog so you do not miss a thing.
A number of states require students to complete a computer technology course in order to meet the criteria for graduation.  Finding a homeschool-friendly computer course is a bit challenging.  Homeschool Programming is a company that offers several courses that are worth considering. 
Chris Yust is the President of Homeschool Programming, Inc.  Chris and his wife are homeschooling parents and both of them possess computer science degrees.  Their company came into existence because homeschooled students wanted to learn computer programming and there were no resources available at that time.  Chris and his wife have since developed the KidCoder and TeenCoder for the Visual Basics Series, Web Series, C# Series, and Java Series to help children (4th grade to 12th grade) learn how to write their own computer programs and games.
Chris requested The Old Schoolhouse Review Crew to review his line of products.  I received the 3rd edition of the TeenCoder C# Series, which was released in April, 2013.
The TeenCoder C# (pronounced C sharp) has both Windows Programming and Game Programming curriculum.  The programs may be completed in approximately one semester each.  The student will need to complete the Windows Programming first since it is foundational to the Game Programming.  This course is for 9th to 12th grade students and will fulfill a computer technology elective course.
Each of the TeenCoder C# books include a disc containing the setup program to install the course material.  Some of the computer program courses from Homeschool Programming are available in an electronic format.  The PDF format has a link for setting up the program.  The student will need to download the free Microsoft Visual C# 2010 Express to complete the projects.  The computer used for the course must meet the hardware and software requirements.  That information is available on the Homeschool Programming FAQ page.
The TeenCoder C# product came to me as a PDF rather than the soft-covered book available for sale on the Homeschool Programming website.  Thankfully, the getting started guide states the PDF documents may be printed for personal use.  It is much easier for my children and me to utilize a book so I printed the course and placed the documents into a 3-ring binder.
The TeenCoder C# Windows Programming consists of 17 chapters while the Game Programming has 15 chapters.  The majority of the chapters contain 3 to 5 lessons, a review, an activity and an optional test.  There is a final project for each course.  Included in the curriculum is a solutions menu.  The solutions may be used as a means for grading or for the student to refer to as needed.  Tests and the solutions are available as well.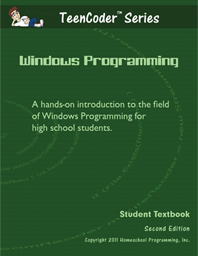 Students do not need prior computer programming knowledge to complete this course.  TeenCoder C# may easily be done independently.  The Windows Programming explains how to make text boxes, calculators, a chess game, and more.
Chapter 6 in the Windows Programming is about User Input and how to create different types of boxes.
Textbox:
Radio Button Box:
The student creates a calculator in chapter 7.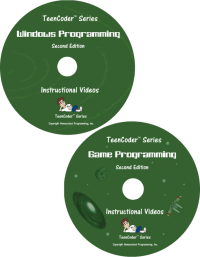 I highly recommend purchasing the optional videos for they make understanding the course material easier for auditory and visual learners.  My son prefers reading the material and then completing the activities.  I was the one who needed to watch the video and read the text material.
The Game Programming course contains instruction on game design, graphics, animation, game physics, and more.  Students take the knowledge they learn for the course and create a bumper car game using the Microsoft XNA Game Studio 4.0 program, which is a free download.
I found the TeenCoder C# curriculum more interesting than my son.  He enjoys using computers and playing computer games.  Learning the inner workings of computer programs is not appealing to him.  Nevertheless, he will continue with this curriculum in order to obtain a high school credit.
Homeschool Programming offers sample pages and demo videos you may want to view before purchasing the curriculum.  The cost of the curriculum is as follows: 
TeenCoder C#: Windows Programming
Course Only – $75
Course & Videos – $90
Video Only – $20
TeenCoder C#: Game Programming
Course Only – $75
Course & Videos – $90
Video Only – $20
TeenCoder: C# Year Pack is the best deal
Courses Only – $130
Courses & Videos – $155
Videos Only – $30
You are welcome to read what the other Review Crew members thought of Homeschool Programming by following the link below.

Blessings,

As a Homeschool Consultant, I am always looking for ways to help other homeschool moms.  Do you have a question or topic you would like for me to write about in my upcoming blog posts?  If so, please let me know.  I will be happy to add it to my list.
My eBook
Disclaimer
This copyrighted article originated from Angie McFarren at H.O.P.E. Home School Consulting. © 2014 H.O.P.E. Home School Consulting Blog  All Rights Reserved.