#hsreview

Before moving forward, I need to satisfy the FCC's requirements:
This post and sidebar contain affiliate and advertising links, which means I may receive a small commission if you make a purchase, at no additional cost to you.  If you wish to learn more, you are welcome to read my disclosure page.  Thank you for your support.
 Hi!  Thanks for stopping by.  Looking for Homeschool Information?  This is the place.  Take a moment to subscribe to my blog so you do not miss a thing.
Math-U-See PreCalculus
Product Review
The older my children become the more I prefer using math curriculum via DVD.  This began when my son took algebra 1 and 2.  It has been a long time since I had algebra in high school and I knew I needed help to explain it.  We switched from the first math vendor to Math-U-See for geometry, which is the course my son is taking now.  I am so happy we made the switch.  My son is pleased he has a textbook and I am glad to have a teacher to explain geometry.  When the opportunity opened up to review the Math-U-See PreCalculus curriculum through The Old Schoolhouse Review Crew, I became excited.
In case you are not familiar with Math-U-See, let me introduce you to the company.  Steve Demme taught math in public and private schools.  In the 1980s, he began teaching homeschoolers at a co-op.  The homeschool families' interest in Mr. Demme's teaching methods grew and by the mid 1990s Mr. Demme began his Math-U-See company.
You will find Math-U-See works well with several homeschool methods.  You may learn more about that on the website.
Math-U-See is unique in that it appeals to multiple learning styles.  The visual learners will like watching Mr. Demme as he uses manipulatives and writes on a whiteboard during his teaching.  The auditory learners will be pleased with the DVD presentations, especially from Mr. Demme.  He has a pleasant voice and a humorous attitude.  The hands-on learners will enjoy working with the manipulatives that will help them understand the math concepts.  The textbook learners will be happy they have a book to use.
Math-U-See is unique in another way.  It does not have grade levels for its curriculum.  Instead, the students focus on a particular area of math before moving up to the next level.  For example, the Epsilon curriculum focuses on fractions and the Zeta curriculum deals with decimals and percents.  This allows the students to master the material.  Math-U-See has curriculum that ranges from an introduction to math all the way to Calculus and even a Stewardship course.  The best way to know where to begin using Math-U-See is to have your child take a placement test.
When you purchase the Math-U-See curriculum, you will want to purchase both the instructor pack and the student pack.  The current cost of the PreCalculus Instruction Pack (the DVD and instruction manual) is $72 and the PreCalculus Student Pack (student textbook and tests) is $32.  The cost of the instruction pack is well worth it for me.  Without it I would be lost.  In addition, I appreciate the packs are sold separately   It will be a money saver when my daughter is ready to use the curriculum.  Depending on the level of math you and your student will use, will determine if you will want to purchase the manipulatives.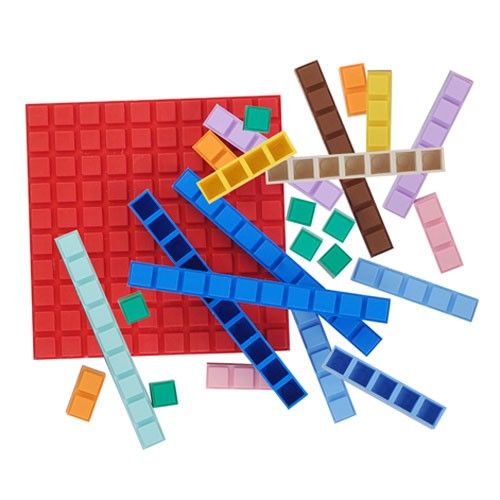 The first day my son and I began using the PreCalculus material was not a good experience.  We watched the DVD for lesson one.  My son expressed he was not ready for this course.  He has not finished Geometry yet and felt he could not do the PreCalculus work.  I sat there listening to the DVD and my eyes glazed over as I tried to absorb the material.  Thank goodness we had the DVD to watch the lesson over again.  The second time around I was beginning to understand the material and my son was adapting to the new concepts.  The instruction manual was also a big help.  I followed along in the manual as we watched the DVD.
Afterwards, we had the opportunity to complete the practice problems in the instruction manual before moving onto the regular assignment.  The practice problems allow students to explain the how and why of the lesson before moving forward with the assignments.  My son also used the instruction manual as a reference to help him complete the math problems in the assignments.
The Math-U-See PreCalculus course contains 30 lessons.  Each lesson has 4 assignments and an honors assignment.  You do not have to have your child complete each assignment.  If your child exhibits a firm understanding of the material, feel free to move onto the next lesson.  Conversely, if your child needs extra practice, the Math-U-See website has worksheets to download.  Since we will use this curriculum during the next school year, I did not have my son complete all the assignments for the first few lessons.
There is a test for each lesson, 4 unit tests, and a final exam.  Again, since we will use this curriculum during the next school year, I did not have my son take any of the exams.
Math-U-See helps the teacher by including the solutions to each math problem in the instruction manual.  Yeah!  Again, without the instruction manual I would be lost.  Customer support is available if and when a student is stuck on a problem and the homeschool mom/teacher is unsure how to explain it.  We might need to use that free service.  Math-U-See also has parent resources.  There you will find record keeping sheets, word problem tips, graph paper, e-learning, webinars, and a lot more.  I will be using the course descriptions for completing my son's high school records.
You may have already guessed I like the Math-U-See curriculum.  It makes it easy for me to provide my children with the higher-level math courses.  My son likes Math-U-See's format.  It allows him to have a textbook and to continue with his independent learning. 
If you are looking for a mastery program that is easy to use and effective with multiple learning styles, I recommend Math-U-See.
Blessings,


As a Homeschool Consultant, I am always looking for ways to help other homeschool moms.  Do you have a question or topic you would like for me to write about in my upcoming blog posts?  If so, please let me know.  I will be happy to add it to my list.
My eBook                                             
Disclaimer
This copyrighted article originated from Angie McFarren at H.O.P.E. Home School Consulting. © 2014 H.O.P.E. Home School Consulting Blog  All Rights Reserved.