#hsreview
Before moving forward, I need to satisfy the FCC's requirements:
This post and sidebar contain affiliate and advertising links, which means I may receive a small commission if you make a purchase, at no additional cost to you.  If you wish to learn more, you are welcome to read my disclosure page.  Thank you for your support.
 Hi!  Thanks for stopping by.  Looking for Homeschool Information?  This is the place.  Take a moment to subscribe to my blog so you do not miss a thing.
Product Review
Homeschool classes, course descriptions, SAT, ACT, transcripts, college applications, scholarships, and more.  Oh my.  The thought of all these things can put fear into any homeschool mom.  Do you feel this way?  What if I told you there is a resource that will lesson your anxieties and will give you the confidence that yes, you can homeschool high school?  The Old Schoolhouse Review Crew provided me with that resource and it is The High School Prep Genius.  Allow me to explain why I like this resource so well.

Let me begin by introducing you to College Prep Genius owned by Jean Burk.  Jean is a homeschool mom who did not have the resources to send her children to college.  She learned in order for students to receive significant amounts in scholarship money the students had to do well on standardized tests.  Jean discovered she could prepare students to excel on the tests.  In fact, her children received $80,000 in college scholarships.  College Prep Genius came about as Jean began teaching others how to prepare for standardized tests.
Jean and her daughter Judah have co-authored The High School Prep Genius and provide direction to students and their parents on how to plan for high school and college.  Even though it says high school, it is also for Jr. High students.  It will help those in the 7th and 8th grade to have a jump-start for high school. 
Now, I must confess this is a difficult review to complete.  I wrote numerous pages of notes from The High School Prep Genius and I have to narrow down what I want to share so this product review will not be long.  Please take the time to read this entire review so you may make an informed decision about adding the book to your library.
***** 
I have kept thorough records over the course of my homeschooling years.  Each year I place the important information into a binder for that specific school year.  My intention has been to draw what I need from each binder to prepare a portfolio for when my children become High School Seniors.  The authors of The High School Prep Genius recommend creating one college and career notebook for all four of the high school years and include the following information:
Four-Year Degree Plan and Four-Year Summer Plan
Student Profile
High School Classes and Transcript Information
Test Prep Chart
College Search and College Choices
Scholarship Information and Financial Aid
Volunteer Work and Extracurricular Activities
Awards and Honors
I have created my son's notebook a bit differently by combining the Four-Year Degree Plan and High School Classes and Transcript Information under one tab.  I had already put together a high school course of study with the courses he needs to take to graduate with what our state calls academic honors.  I printed the chart and placed it into this section.  I also added the course descriptions with the curriculum and materials used, his reading list, and transcript.  I will then update this information as needed throughout my son's high school years.
The Four-Year Summer Plan is new to me.  We have decided on things he will do during the summer but I did not think about making a formal plan for each summer.  The purpose of the plan is for the child to be productive over his or her summers rather than missing opportunities for growth. The authors of The High School Prep Genius suggest students take classes that cannot be completed during the school year, explore new interests, volunteer, and so forth.  My son will hopefully have a job, learn to drive with maybe an auto upkeep course, go on a mission trip, and play baseball on a travel team.  In addition, he will be doing some reading to get ahead for his upcoming literature course.  That may sound like a lot but he will still have plenty of time for fun.
The Student Profile is what the authors refer to as a résumé.  It is a place to keep a record of goals and aspirations, samples of class work, pictures of projects, and so forth.  I will probably add letters of recommendations here as well.  This will also be a handy place to keep a copy of a DVD of my son playing baseball, which we will give to a college recruiter to view.
The Test Prep Chart is definitely something I need to create.  The chart includes the different types of college preparation tests, when to take them, the actual date taken, and the score received.  I will also add the months of when we need to contact an area school to register for the exams.
College Search and College Choices is an area to include colleges of interests, a comparison chart, admissions and application requirements.
It is very important for college admission personnel to see students who are well-rounded.  Volunteering either in the community or through mission trips will help in fulfilling what the admissions staff is wanting.  Keep a list of those volunteer opportunities and the hours spent doing so.  Then place it in the Volunteer Work and Extracurricular Activities section.
The authors of The High School Prep Genius encourage the student to keep track of all the received awards and honors no matter how insignificant they may seem at the time.  This will obviously go under the Awards and Honors tab.
One of the features I appreciate about this book is it has a month-by-month timeline for each high school year and when to add information to the college and career notebook.  Since we are our child's guidance counselor, this is an excellent way to keep track of when to complete an important task for high school.
A unique aspect of The High School Prep Genius is it speaks to both the student and the parent.  This lets the student take responsibility for his or her high school years and gives the parent opportunities to guide the child through the process.  In addition, we do not have to adapt the book to our situation because it speaks to homeschool parents as well as parents of public and private school children.
Now, believe it or not all the above information is in the introduction and there is so much more to this book.  There are three more sections and appendices.  Section II is Foundation for Success, Section III is Foundation for Academic Success, and Section IV is Foundation for Future Success.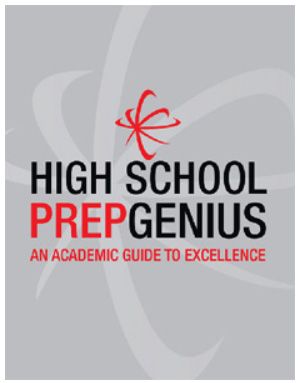 Foundation for Success is about the student discovering themselves, how to make wise choices, eating healthy, relating to others, being financially responsible, and more.  A very important message in chapter three is about the ten virtues and their meanings.  Prior to the list, the book states:
"Do not hastily read this list and go on to the next topic.  In fact, if you get nothing else from this entire book but a strong desire to improve your character, you time will be well spent."
The first chapter in the Foundation for Academic Success portion is about the benefits of an education.  This is an important chapter for students to read.  Education is not to be endured and be nothing more than a means of moving on to the next phase of life. 
Other chapters in the Foundation for Academic Success provides advice on how to study, take tests, organization, the mechanics of high school and going beyond the basics.  There is important information for homeschool parents in the mechanics of high school chapter.  It speaks about transcripts, grading, and the importance of meeting deadlines.  I made sure my children read the section on meeting deadlines.  They discovered it is not just mom who thinks this is important.
The Going beyond the Basics is a chapter you will want to read thoroughly especially the part about dual credit.  It is nice to receive credit for college prior to high school graduation.  The authors give a warning of having too many college credits.  The book states:
"Students who accumulate a large number of college credits from dual enrollment, AP, CLEP exams may not be considered incoming freshmen when they enter college, but instead transfers student.  The difference in enrollment status can influence your application consideration and scholarship opportunities." 
I am so thankful my husband and I learned this well in advance.  We had plans for our son to take several classes at a nearby college during his Junior and Senior year.  We will check with the college to make sure our son will not lose potential scholarship money he can really use.
The Foundation for Future Success portion of the book deals with determining if college is right for the student, how to choose a college, standardized testing, paying for college, and more.
Choosing a college is often a difficult task.  There is so much more to consider than the proximity of the college and how much it costs.  This book provides advice on how to go about selecting a college, the Dos and Don'ts of doing so, and what to do on a college visit.
The chapter on standardized test prep is very helpful.  It explains the specifics of the different types of tests and the importance of being well prepared.  Something new I learned is a student can take these exams as early as the 9th grade.  I had intentions of my son taking the PSAT in the 11th grade but did not think about him taking it earlier.  My son is relieved to know he can take the PSAT for practice as well as being able to take the SAT more than once in order to improve his score.
Paying for School is another important chapter to read.  The authors explain the different ways of paying for college and provide a list of websites to begin searching for scholarships.  An important section in this chapter for my son and husband is the information on athletic scholarships.  The Dos and Don'ts will be very helpful when the time comes.
The High School Prep Genius contains even more information than I have shared.  I hope you have realized how this resource guide will provide you with a wealth of information and is a necessity for your homeschool library.  You may purchase it for $29.95 on the College Prep Genius website.
Thanks for taking the time to read my review.  You are welcome to read what the other Schoolhouse Review Crew Members wrote about The High School Prep Genius.
Blessings,

As a Homeschool Consultant, I am always looking for ways to help other homeschool moms.  Do you have a question or topic you would like for me to write about in my upcoming blog posts?  If so, please let me know.  I will be happy to add it to my list.
My eBook                                             
Disclaimer
This copyrighted article originated from Angie McFarren at H.O.P.E. Home School Consulting. © 2014 H.O.P.E. Home School Consulting Blog  All Rights Reserved.