#hsreview
Before moving forward, I need to satisfy the FCC's requirements:
This post and sidebar contain affiliate and advertising links, which means I may receive a small commission if you make a purchase, at no additional cost to you.  If you wish to learn more, you are welcome to read my disclosure page.  Thank you for your support.
 Hi!  Thanks for stopping by.  Looking for Homeschool Information?  This is the place.  Take a moment to subscribe to my blog so you do not miss a thing.

Outstanding Object Lessons
Product Review
Have you ever tried to explain a biblical concept to a young child and all you received in return was a blank stare or maybe a hint of a flickering light bulb?  The child wants to understand but that light bulb just is not working.  Object lessons help to turn on those light bulbs.  A resource is available to help children understand biblical concepts better, and that is the Outstanding Object Lessons from Christianity Cove.
I am the Awana Commander at our church and am in charge of organizing the program.  Each year I look for themes and coordinating lessons.  This is not an easy task to find something new each year.  When the opportunity to do this product review became available through the Schoolhouse Review Crew, I jumped on it. 
First, you may want to know a little about Christianity Cove before I share about the product I received.  According to their website:
"Christianity Cove is the web's #1 resource for Sunday School lesson ideas, crafts, games, activities and tips for teachers.
With over 700 free Sunday School lesson articles on our blog, and 26 best-selling resources in our library of products, we've helped thousands of teachers around the world revitalize their Children's Ministry programs and fill their classrooms with eager students."
The company provides many products and ideas for:
Sunday School Lessons

Teen Lessons

Tween Lessons

Bible Games

Children's Sermons

Crafts

Activities

Snacks

Devotions

Service Projects

Bible Science

Object Lessons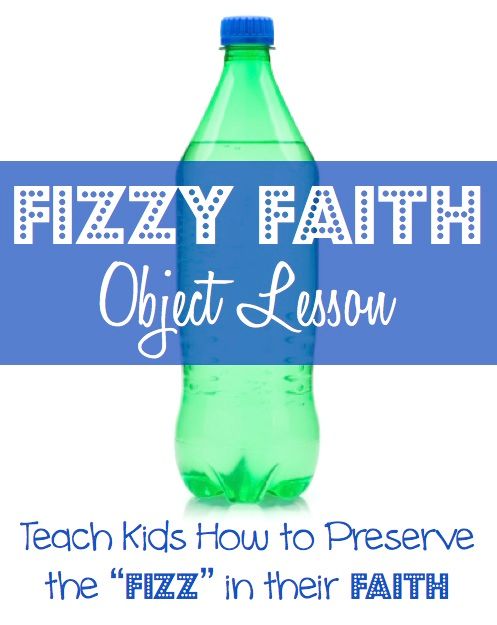 The product I received is the Outstanding Object Lessons, it is a pdf download, and it contains 28 lessons.  The product states it requires using everyday items found around the house.  I was expecting 28 items but there are more things needed to complete each lesson.  There are items that I did not have on hand such as a bottle of Sprite, giant pixie stick, bouquet of flowers from the grocery store, candy kisses, bushy house plants, goldfish bowl, goldfish, chicken carcass, paper shredder, and a clothesline.
Each lesson contains the same format, which is:
Message Scripture references

Objects needed

Preparation

Lesson

Concluding prayer
Have you ever struggled with what to say when teaching a challenging concept or just not able to remember what you want to say?  The Outstanding Object Lessons has all the information written out and can be read word for word or used as a reference.  Some of the wording needed adapting to fit my style of speaking.
The lessons take about 10 to 15 minutes to complete.  I was hoping to use them for the Awana closing but they will be too long for me to do so except for one.  These lessons will be more appropriate for group time.  A number of them will need to be completed in a kitchen. 
The Outstanding Object Lessons is supposedly usable in different settings not just at church.  In my opinion, the Outstanding Object Lessons is more appropriate for a group setting.  Some families may be able to modify the lessons for their home use. 
We found only two lessons to be applicable for us.  My daughter does like the "uniqueness of the lessons and how hands-on activities are used rather than giving a lecture."  She especially liked the lesson on God Cuts Our Lives Back So That a More Beautiful Life Can Bloom.  It is about pruning and a girl named Rachel.  My daughter was able to identify with Rachel since she (my daughter) recently had her long hair cut and donated a portion to Locks of Love.  This lesson does require two bushy houseplants with one needing pruning.
As you know, many children have cell phones.  The children probably never thought about relating texting with prayer.  The lesson on God Likes Us to Phone Home Every Day is a timely one for my daughter.  She recently received my old cell phone.  She has been texting away and has discovered the more she texts the quicker the battery dies.  Thankfully, we never have to worry about not being able to talk with God because of a dead battery.   The Outstanding Object Lessons states:
"because prayer is timeless and free and does not fail, unlike our cells."
I like the lesson on Understanding the Trinity: Three Beings Yet One Being.  The Outstanding Object Lessons explains how to relate water, salt, and flour to the 3 parts of the Trinity.  The mixed ingredients are like the Trinity since the 3 ingredients are still there but now form one.  The mixture ends up making play dough. 
I was unable to find the intended age level for this product on the Christianity Cove website.  My opinion is the lessons will be applicable for Kindergarten and up providing there is modification to the script.  The lessons will impress upon the hearts of many as the listen, watch, and hear the messages.  The lessons will not be soon be forgotten for the listener may never look at scissors, light bulbs, paper clips, chicken bones, strainers, spoons, bottle caps, and many other objects the same way again. 
When ordering your copy of these lessons, you will be taken to Clickbank.  There you will discover the name of the product is actually 28 Outstanding Object Lessons and costs $28.00.  You are welcome to take advantage of a free object lesson on Christianity Cove's website.  It is called, Sunday School Object Lesson: Preserving the "Fizz" In Our Faith!
You are welcome to read what other Review Crew Members have to say about this product.

Blessings,

As a Homeschool Consultant, I am always looking for ways to help other homeschool moms.  Do you have a question or topic you would like for me to write about in my upcoming blog posts?  If so, please let me know.  I will be happy to add it to my list.
My eBook                                             
Disclaimer
This copyrighted article originated from Angie McFarren at H.O.P.E. Home School Consulting. © 2014 H.O.P.E. Home School Consulting Blog  All Rights Reserved.